Business Operations Update
Here's important information about our operating hours, facilities, procedures, and health and safety steps that we are taking amid the coronavirus crisis.
We are still open and here to serve you
As a facility that is creating media and supporting media outlets, we have not shut our doors, but we are taking social distancing very seriously. Here's what we are doing to ensure everyone's safety:
We're encouraging clients, producers, and directors to communicate via phone or email as usual.
We're discouraging in-person producing and directing right now.
We're working from home whenever possible.
We're sanitizing our facilities multiple times daily, even when no visitors have been on site.
We're limiting visitors to one producer and one voice talent.
We're implementing strict 6-foot distancing between any people on site.
We're requiring each person to wash hands when arriving and leaving. Hand sanitizer is available as well.
We're asking that anybody that is not feeling well to not come in.
Recording at Dynamix
Some projects may require voice talent to come to Dynamix. If the voice talent chooses to not come on site over health concerns, we're respecting that decision. There are options for you if this happens:
The talent may have a quality microphone and recording space at their home.
We search for a suitable replacement that has access to a home or pro studio.
We search for a suitable replacement to come in.
These are very unusual times and we appreciate your understanding if some of these alternatives may not be ideal, cost more, or cause delays in the project. We are committed to finding a solution for you.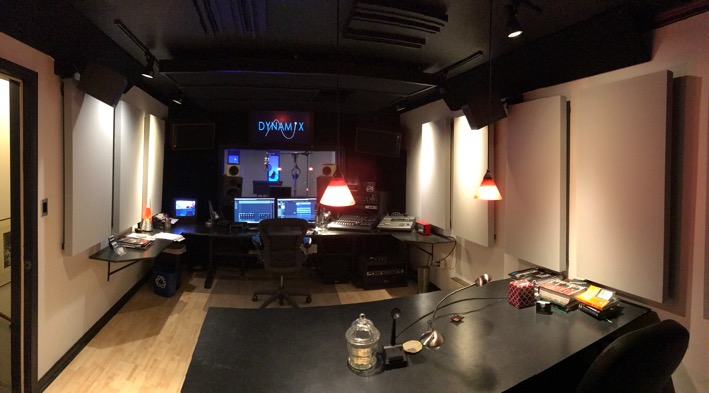 We're encouraging you to direct sessions via phone or Skype. However, if you do need to come to Dynamix know that we are able to maintain social distancing by:


Limiting the number of people in the facility
Distancing producer and engineer. The producer desk and engineer chair are 8-10 feet apart.
Limiting one producer at the desk.
Limiting one voice talent in the studio (which has a glass barrier).
Requiring hand washing/sanitizing upon entering and leaving Dynamix.
If a "Stay at Home" order is declared
If a strict "stay at home" order is declared, I am prepared to work out of my house.
Here's what capabilities I will have:


Full editing capabilities, same as I have now
Full libraries of music and sound effects
Ability to send and receive large files
Ability to direct remote recording sessions, with conference calling
Ability to record remote voice talent and interviews via phone, FaceTime audio, Skype, TieLine, and using other digital services. If a lengthy "stay at home" is anticipated, I will explore subscribing to peer-to-peer recording software such as SourceConnect if there is enough demand.
Ability to record remote on-location voice-overs, as long as social distancing guidelines can be maintained.
Ability to convert cassette tapes and LPs to digital
Ability to record dog and cat sound effects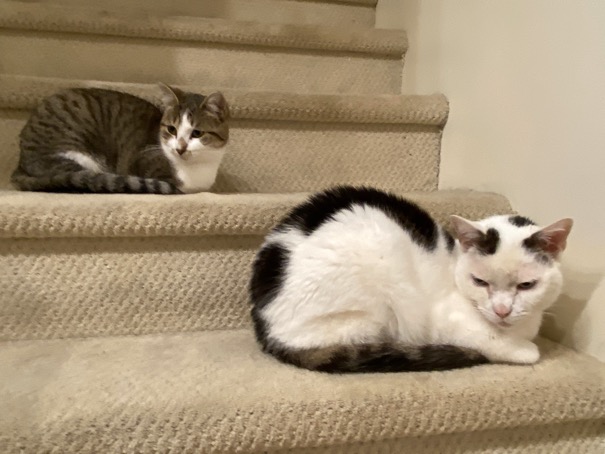 My "at-home" engineer team
Here are capabilities I will NOT have:
No recording voice talent on site (Unless you want me to voice something. If you do then you must really be desperate.)
No ISDN sessions
No ADR sessions
Only cassette and LP Analog conversion to digital, no reel-to-reel, 8-track, etc.
Limited access to past projects that are already archived off my hard drives, typically older than 3 months. Current restrictions allow business owners to go to their facilities for the maintenance, security, and other duties necessary for the business to operate. If those rules remain in place, I can retrieve older projects with enough advance notice.
Get your messaging out
Several of the projects we have recently worked on have been important messages to listeners and customers about the coronavirus.
Weekly radio program EASTERN STANDARD on WEKU-FM. Several stories about how the pandemic is affecting citizens, businesses, and news coverage. We've eliminated in-person interviews and now record from a remote studio, telephone, FaceTime audio, or Skype.
For businesses, new operating procedures that protect customer and employee health.
Medical training presentations that are being shifted from live conferences to online only.
A few messaging ideas
Your customers need to know how your business is operating under the new guidelines set by health and government leaders. Listeners also need a diversion from being home-bound. Create fun, off-the-wall, historical, or informative ads, presentations, and podcasts.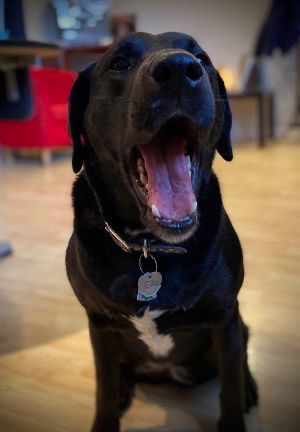 Thank you for your business, and please stay safe. Ella will be glad when this whole thing is over so she can go back to getting lots of belly rubs.